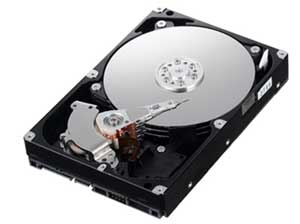 A generous gift was bestowed upon me last week — Dell's PowerEdge SC420 server. It came with two (2) 80GB hard drives which I have since replaced with two (2) 1TB hard drives. I decided to mirror these drives for the sake of redundancy using Linux's built-in software RAID drivers.
While synchronizing the drives, I decided to monitor the progress. What I saw was truly amazing.

jeremy@fileserver1:~$ cat /proc/mdstat
Personalities : [linear] [multipath] [raid0] [raid1] [raid6] [raid5] [raid4] [raid10]
md0 : active raid1 sda1[0] sdb1[1]
879084736 blocks [2/2] [UU]
[=>...................] resync = 8.1% (71688192/879084736) finish=116.2min speed=115709K/sec

Holy cow! 116MB/s!
That means the SATA bus is processing at least 332MB/s since it has to read the data from one drive and then write the data to the other drive. That's 2,656Mb/s or 2,656,000,000 bits per second which equates to 2.7 bits per picosecond! I'd like to see anyone do anything 2.7 times in one picosecond.
I figured with this much throughput the CPU would be chugging away. Nope. 4%.